2019 GDTA Annual General Meeting: The Adventure of a Lifetime!
September 30, 2019 @ 7:00 pm

-

9:00 pm

FREE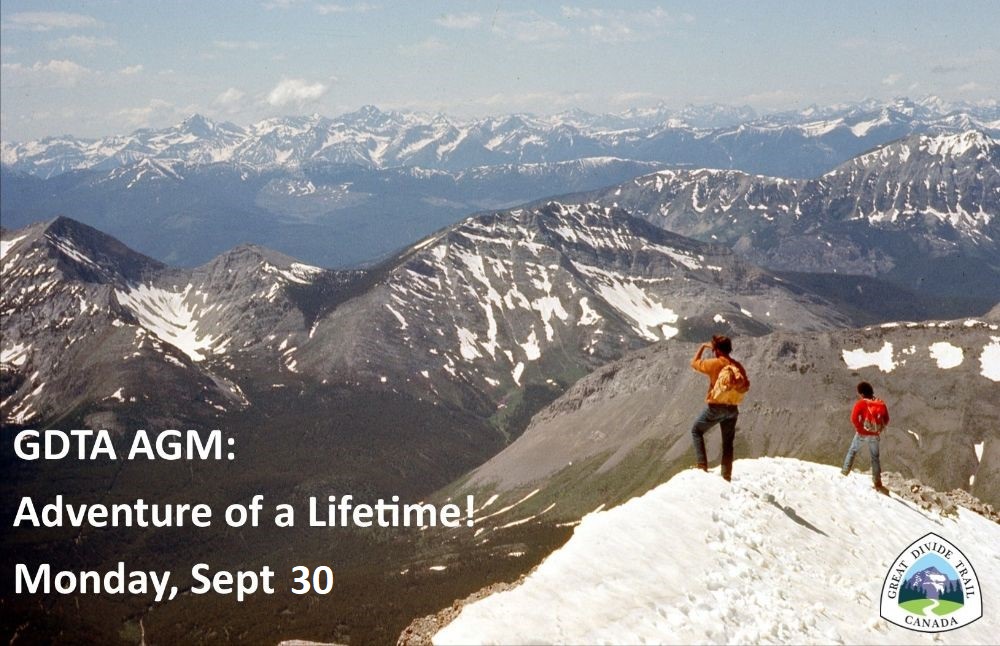 Stories from the Summer of 1974: The Creation of the GDT Route!

We're bringing together as many of the original six founders as we can for an evening of memories and photos to tell the story of how the route for the Great Divide Trail was created! It was the summer of 1974 and the daunting challenge was to consider over 2,000 square miles of rough and often unmarked terrain to define the GDT route from Waterton to Banff.
The original team included Cliff White, Jenny Feick, Mary Jane Cox, Dave Higgins, Chris Hart and Dave Zevick. Probably best described as a team of idealistic young adults in their late teens and early twenties, they felt compelled by the vision of a long-distance trail along the crest of the Rockies. This was the project of a lifetime for them! Their dedication and tenacity kept them going in the face of challenging and even life-threatening situations. The work completed that summer by this team laid the foundation for the GDT and the GDTA.
We are hoping that all past, current and future volunteers of the Great Divide Trail Association will join us for this 45 year anniversary celebration! We're holding it at the Wild Rose Brew Pub and would like to buy all past and current volunteers of the GDTA a drink, offer enticing stories to future volunteers and celebrate the GDTA's accomplishments as a group! Everyone is welcome.
This will also be the book launch for Tales from the Great Divide, Vignettes on the Origins & Early History of Canada's Great Divide Trail and the Great Divide Trail Association manuscript.
The presentation will be followed by the Great Divide Trail Association Annual General Meeting. Stay and hear about all the great work of the GDTA over the past year and learn how you can get involved! Come meet others who are interested in building, preserving and protecting the Great Divide Trail.
Cost: Free
When: Monday, September 30, 7:00 – 9:00pm, doors open at 6:30pm
Where: Wild Rose Brewery, 4580 Quesnay Wood Drive SW, Calgary AB, T3E 7J3
Registration is required: There is limited seating. Tickets are available on Eventbrite. Click here to reserve a seat.
Hope to see you there!