"GDT Hiker Notes" were started by Ben Mayberry and Li Brannfors in 2011/12 and provide helpful updates to Dustin Lynx's guidebook to assist hikers doing the GDT in the future. This document is hosted on Google Docs and is user-maintained and updated by GDT hikers every year as it is passed from class to class on the Great Divide Trail.
Topics include:
Trail condition updates
Detailed descriptions of the trail, including navigational challenges
Opinions on route choices
Descriptions of alternates routes
General tips
If you use this document please consider providing your own updates after your hike.
Instructions for updating GDT Hiker Notes:
Click the image below to view GDT Hikers Notes.
Email us requesting access to the document so we can share editing rights with you, or
Email your updates directly to us and we will add them to the document for you.
The document is organized from south to north along the trail and separated into segments according to Dustin Lynx's guidebook and the GDT App.
Add your personal identifier (e.g. your initials), your name/trail-name, and the date of your hike to the 'Contributors' section on the first page.
Insert your personal trail update into the corresponding segment of the trail, including the date of the update and your personal identifier.
Be clear and concise and avoid excessively long updates.
Personal opinions and recommendations are encouraged!
Referencing the location or nearest waypoint on the trail is helpful.
Example:
DH (July 2017) The GDT is marked with orange blazes beginning just east of Tornado Mountain Saddle (b17), continuing until Fording River Pass (b31). The views from Tornado Mountain Saddle are incredible!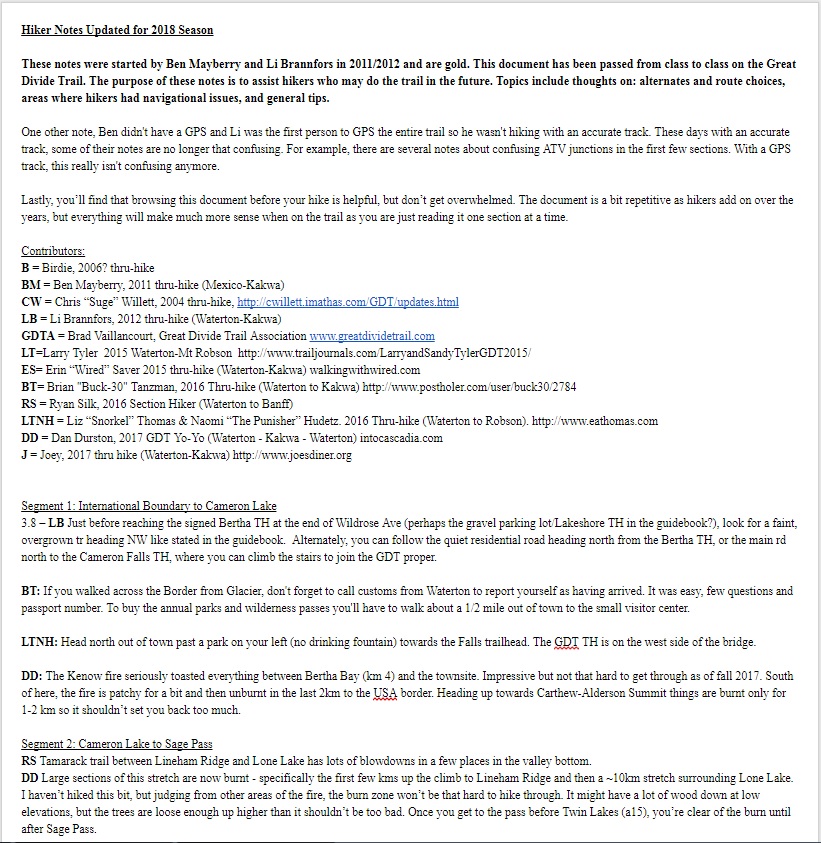 Disclaimer: GDT Hiker Notes are user-developed and maintained. While we attempt to fact-check the document regularly, the GDTA takes no responsibility for the accuracy of the notes.