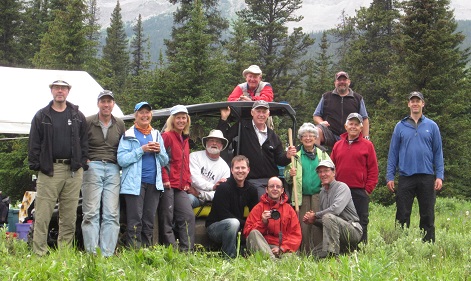 The Great Divide Trail Association (GDTA) was originally established in 1975. In the late 1970s and much of the 80s, thanks to the passion and hard work of a group of dedicated GDTA volunteers, much of the Great Divide Trail outside of the Parks was scouted and built. Unfortunately due to lack of government support, the GDTA fell dormant in the late 1980s. (Read more about the History of the GDTA.)
In the early 2000's, a group known as the Friends of the Great Divide Trail began to work on the GDT once again, breathing new life into the Trail. And in 2013, the Friends of the Great Divide Trail officially re‐activated the Great Divide Trail Association.
The Great Divide Trail Association is a Canadian not‐for‐profit corporation and registered charitable organization headquartered in Calgary, Alberta, responsible for maintaining, promoting and protecting the Great Divide Trail. The Great Divide Trail Association works with regional partners to coordinate trail improvements, maintenance and protection. We are supported by members, volunteers and hikers who make the Great Divide Trail experience possible.
Read more about What We Do.
Our Vision:
The completion and long-term protection of the Great Divide Trail, providing a unique wilderness experience in the Canadian Rocky Mountains along the spine of the Great Divide.
Our Mission:
Provide a public amenity by planning, designing, constructing, maintaining, and obtaining formal recognition and protection for the Great Divide Trail as a significant heritage site in the Rocky Mountains of Canada; and
Educate the public about the Great Divide Trail, and promote and encourage its use in a manner consistent with the conservation and preservation of the scenic and wilderness value of the Rocky Mountains of Canada.
Our Values:
The Great Divide Trail Association strives to maintain the following values in all its endeavours and interactions:
Collaboration: We value the dedication and hard work of our volunteers. We embrace the diverse perspectives and contributions of our supporters. Working together, we can increase our effectiveness, achieve our common objectives and fulfill our mission. We celebrate our successes and build and nurture long-standing relationships.
Respect: We demonstrate integrity and respect for each other, and for the trail users, volunteers, stakeholders, supporters, wildlife and the wilderness environment on the Great Divide.
Connectivity: The GDT embodies a connection to each other and to nature through the passion of hikers, equestrians, volunteers, supporters, and government organizations. Common purpose unites us and creates a community of individuals and organizations all pursuing the vision of the GDTA. On the Great Divide, we are all connected by the Trail.
Perseverance: We honour the past visionaries and builders of the GDT and continue to embrace and share their dream. With passion and purpose, we persevere to have the Great Divide Trail completed and the route protected.
Stewardship: We are dedicated to our ongoing responsibility to steward the resources of the Trail and the Association for the benefit of all, including future generation.
Want more information? Contact us.