Volunteer on the Great Divide
Join us in the mountains. Build trail. Sleep under the stars. Be inspired.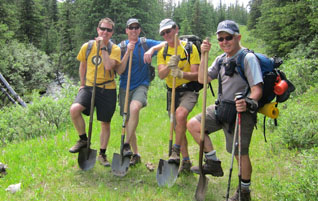 Trail Maintenance
Trail Crew Volunteers are a vital component in the building, maintenance, and protection of the GDT. Each year our GDTA volunteer-led Trail Crews take out new and seasoned volunteers to conduct trail work. Projects can include building, maintaining and improving trail tread, removing fallen trees, repairing and building trail structures, brushing and clearing vegetation, as well as blazing and signing the trail. Most GDTA projects do not require previous trail maintenance experience as training on tool use and safety is provided by Trail Crew leaders. And all this in the spectacular setting of the Canadian Rocky Mountains!
If you are interested in volunteering on one of our Trail Maintenance trips, read about our past and present Trail Maintenance Trips, check out our GDTA Volunteer Guide, or contact us at greatdividetrail@gmail.com
Other Volunteer Opportunities
Trail work not your thing, but you still want to help? The GDTA is a young and exciting ground floor opportunity to be involved in. We have opportunities available such as:
Board Membership
Committee Leadership and involvement
Website development
Government Liaison
Community Outreach
Even if you have just a few hours to give, it can make a big difference. Contact us today to find out more or add your name to our Mailing List to receive notifications of volunteer opportunities.