If you would like to get involved with the GDTA, think about joining one of our committees: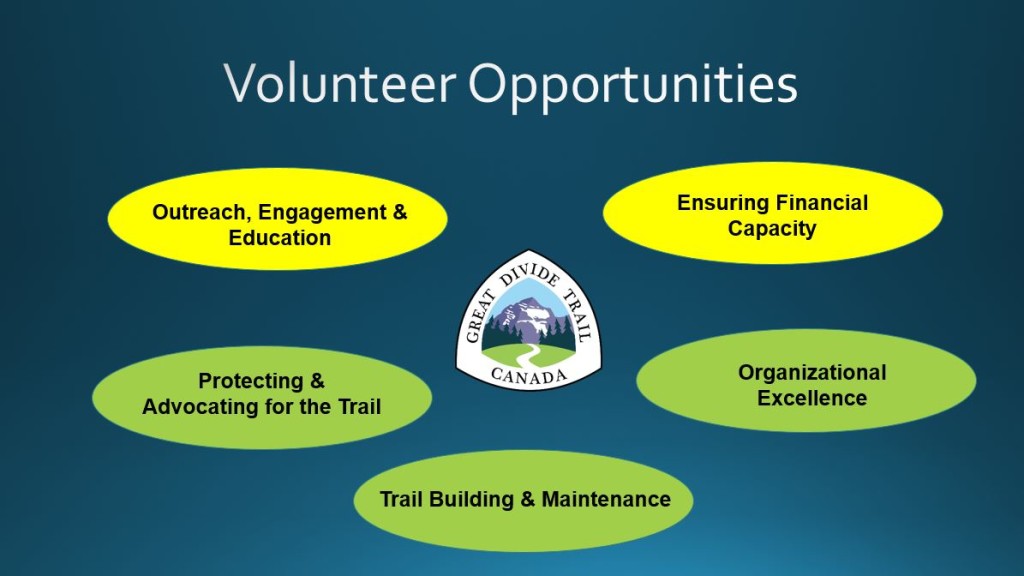 Outreach, Engagement and Education
Build awareness of the Great Divide Trail and GDTA
Ensure that the mission of the GDTA resonates with a broad audience of users, volunteers and funders through effective communication strategies and programs
Plan and coordinate robust and thriving outreach and education programs and events
Publication on the GDTA website, social media, Pathfinder Newsletter and other mediums to promote the Great Divide Trail
Ensuring Financial Capacity
Ensure the longevity of the organization through securing robust, diverse revenue streams to support and expand our capacity for operations
Oversee development and implementation of a fundraising plan
Organizational Excellence
Ensure that the GDTA has applicable policies, procedures and strategic plans in place to grow and protect the organization
Ensure the continuity and sustainability of the organization through the individuals involved, including the Board, members and volunteers. Ensure that the roles and responsibilities of the Board, members and volunteers are clearly understood and are consistent with the mission and vision of the organization
Lead the Board nomination process, engaging potential candidates and ensuring that the Board includes an optimum mix of skills and characteristics that align with our values
Champion the Volunteer Recognition awards and other mechanisms used to honour members and volunteers
Trail Building and Maintenance
Ensure an outstanding wilderness experience for current and future users that is consistent with the conservation and preservation of the scenic and wilderness value of the Rocky Mountains of Canada
Foster quality trail design, construction, management, protection, and maintenance, that ensures an excellent trail experience for current and future users
Engage GDTA members in order to strengthen the community of volunteers that support the Great Divide Trail
Trail Protection and Advocacy
Pursue formal recognition and protection of the Great Divide Trail
Develop and maintain alliances with key governmental agencies and stakeholders, provincial or federal
The general expectations for participation in a GDTA committee:
Volunteers will participate in regularly committee meetings (e.g. every 2nd month or quarterly), via telephone or Zoom, or in person (when possible).
Committees will be responsible for:

determining committee objectives;
planning and carrying out activities to achieve objectives;
seeking board approval for any funding requirements or significant decisions;
reporting back to the board on progress as required.
If you believe you have the skills, knowledge or passion for the trail and the outdoors like we do, get involved now. Send us an email if you would like to join a committee or get more information.