Peter Lougheed Provincial Park, Elk Pass Trailhead @ km 337.7 (en route)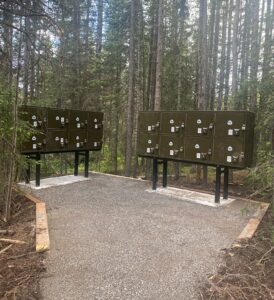 Nicole Sharpe has generously offered to deliver resupply boxes to the lockers at the Elk Pass Trailhead in Peter Lougheed Provincial Park to GDTA members for a fee of $25 and to non-members for $40.
Contact Nicole through Facebook or at nicole.d.sharpe@gmail.com to book your delivery service and receive mailing instructions. Once you've paid the fee, Nicole will give you her Zoleo satellite communicator number in case on-trail communication is needed.
Nicole will only be delivering on evenings and weekends throughout the summer.
Proof of GDTA membership is required for discount.
If hikers have gear failure or want Nicole to deliver fuel canisters (they can be shipped via outfitters), she is happy to bring those too.