The Great Divide Trail Association's Annual General Meeting will take place on September 26, 2016 at 7:00 pm at the Alberta Wilderness Association office in Calgary. Everyone is welcome and admission is free.
Join us for an evening with one of Alberta's 50 most influential people, Kevin Van Tighem, as he shares thoughts from his book Heart Waters and explores what the view from the Great Divide Trail tells us about our land use choices and our water future. This illustrated talk will showcase the ways in which water drains from the Great Divide to the rivers below while exploring how better land use choices could protect against future droughts and floods while restoring trout streams, protecting wildlife habitat, and ensuring that the dramatic beauty of our headwaters landscapes enrich the lives of generations to come.
We welcome the public as well as our membership to take part in the formal portion of our Annual General Meeting agenda following the presentation. Meet the Great Divide Trail Association volunteers to learn more about their dedication to maintaining, protecting and promoting the GDT, and how you can get involved. Enjoy refreshments and good company as we make decisions regarding the future of this special wilderness trail.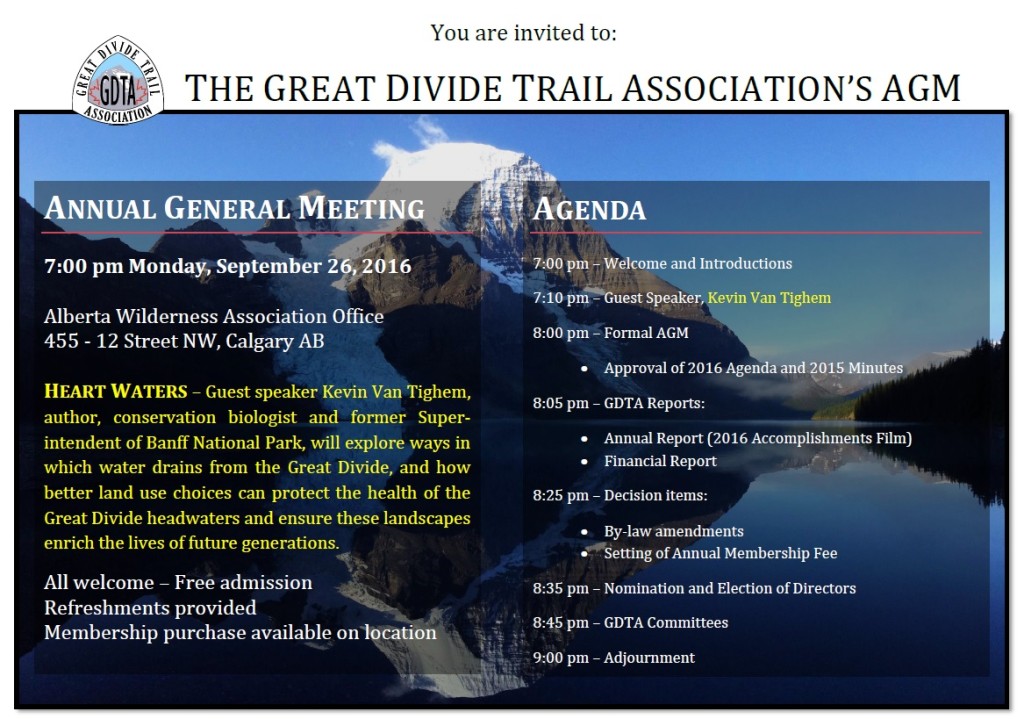 RSVP to http://greatdividetrailassociationagm2016.eventbrite.ca