2019 was a very busy year for the GDTA, with more scouting, trail building and maintenance trips than ever before. A huge amount was accomplished thanks to the large number of hard-working and dedicated volunteers. Key accomplishments in 2019:
The wettest and coolest summer in the Rockies in decades, but no wildfires!
135 volunteers participated in 12 trail building and/or maintenance trips and 2 scouting trips – the most volunteers and total trips ever in one season!
50 return volunteers from previous trips
54 first-time volunteers, including:

2 instructors and 10 students from the Wild Rockies Field Institute in Montana
2 troop leaders and 8 Junior Forest Rangers from Calgary

4 km of new trail cleared and/or built on the High Rock Trail
13 km of the historic David Thompson Heritage Trail restored + 1 bridge completed
6 km of the Maligne Pass Trail cleared in Jasper National Park
1 km re-built on the Original GDT
June Scouting
The season started with the usual spring scouting trip which we like to hold a week or two before the first work trip, which meant this year's scouting trip was earlier than usual. Thankfully on our drive in, the scouting team only encountered snow on one short section of the Atlas Road. But this still took most of the day to dig and push our way though. The snow increased higher up and we could not drive all the way up to the intended camp spot so we improvised and set up camp at "Winch Creek" just before dark. The next day scouting higher up was not possible due to 1 metre of snow, so we concentrated lower down and spent a good amount of time scouting future work camp locations. The time spent on fine tuning the route was well worth it.
Trips #1-3 – High Rock Trail, June 13 to 27
By June 13, snow was no longer an issue, amazing what two weeks does. Day 1 was warm and sunny. Equipment and supplies for our base camp for Trips 1-3 was shuttled in to First Creek Road via ATV while the crews walked in on foot. The weather started great but we had some unusually cold and rainy days, one day of snow and one day with some intense lightning. Overall things still worked out, but we shortened some work days as the cold and rain drained people's energy and made the terrain very slippery. Even though the weather didn't always cooperate, we had a lot of experienced volunteers on the first three trips which allowed us to make good progress.
These first three trips involved building trail tread up a steep slope as well as brushing and chainsaw work. Over the 2 weeks, we completed 1.4 km of new tread, completing all brushing and chainsaw work in the area. This year each trip had volunteers responsible for leading duties like latrine, firewood, food storage, etc. and it worked out better than we could ever have imagined. Volunteers really took ownership of their responsibilities and it reduced the demand on the trip leader, resulting in a very well run and enjoyable camp for all.
Trips #4-7 – High Rock Trail, June 27 to July 19
These trips had a slightly different makeup with most of the crews being first time GDTA volunteers. Enthusiasm was high as trip leaders taught new volunteers safety procedures and trail construction techniques as tread building was the focus of these trips. As always, there was a significant focus on safety including our new and improved tailgate meetings to begin each day. Things worked out very well even though more rain and cold weather continued throughout. As tread building progressed on Section G, the slope got steeper and thus more attention to detail was needed to make the proper tread width safely on the difficult terrain. Volunteers worked hard in some nasty weather as high winds also become a factor both at the work site and in camp.
A group from Montana's Wild Rockies Field Institute joined us for a few days and they came in with youthful energy and amazing work ethic. With their help, we finished the tread to the top of Section G, achieving one of our objectives for these trips.
On July 9, our base camp was moved to a new location on the Atlas Road near the access to Window Mountain Lake. This was a learning experience as it was our first time moving camp between trips, involving a lot of work by only a few volunteers. The new base camp featured some serious ingenuity, where we built a solar-powered water pump to get water from the nearby creek which was down a steep ravine. The new camp was used for the next 4 trips including the Signature Trip.
Weather continued to be a challenge with more rain and unseasonably cold temperatures. But our volunteers persevered and built tread on Sections Q and S which thankfully featured much gentler slopes than Section G making trail construction easier and faster. During these 3 weeks, we completed an additional 1.4 km of new tread, connecting several sections of the High Rock Trail.
Trip #8 – High Rock Trail Signature Trip, July 19-23
This trip had maybe the most experienced crew ever with all but one of the 20 volunteers having had participated on at least one previous trail building or maintenance trip, including 5 of the Original GDT scouting crew from 1974.
Many stories of the early days of the GDT were shared each night around the campfire, including a song or two.
As always on Signature Trips, all food is provided and meals were prepared by Marty, our experienced head chef extraordinaire and his assistant Mary Jane.
Other than one day of rain, the weather finally improved allowing the crew to work under blue skies for most of the trip. Again, a renewed attention to safety was paramount and extra time was taken to review safety procedures and practices at the start of each work day. The goal of the Signature Trip was to start building trail in Section U, south of Window Mountain Lake. The section featured some fun but still challenging terrain to build trail – wet valley bottom down low and rocky steep slopes up high. In total 1.2 km of new tread was built on Section U.
The lower section of trail was very wet and necessitated some creative trail building to divert water from the trail and mitigate some very muddy conditions. On the last day of the trip, some volunteers hiked up to the ridge above Section U with spectacular views of Crowsnest Peak and Pass, while a few others hiked to Window Mountain Lake for a quick swim before returning to camp with a deep sense of satisfaction of time well spent on the Great Divide.
Special thanks to the North Face for outfitting all of our Signature Trip volunteers with cozy fleece sweaters!
Trip #9 – "Original GDT" Lost Creek, August 2 to 6
The purpose of this trip was to relocate a section of the "Original GDT" near Lost Creek that had been destroyed in the floods of 2013. A crew of 10 volunteers set out to re-locate the trail to a good dry route through the forest.
The crew scouted the area thoroughly in order to flag the optimal route avoiding the wet, brushy meadows. The crew also performed maintenance on the trail toward Cataract Plateau, including much needed chainsaw work. Afterwards everyone enjoyed the spectacular views from the plateau.
The next three days were spent building two bridges, clearing deadfall, and brushing the old trail. Hot sunny weather (unusual for this summer!) was a challenge but volunteers decided it was much better than cold and rain. A few hundred metres of new tread was completed through the meadow. The last day was spent scouting trail up from the bridge site and assessing trees for a future bridge, preparing for completion of the necessary work to re-route the trail in 2020. It was a great few days of work including a bonus of two thru-hikers arriving in camp one evening – always a highlight.
Trip #10 – Maligne Pass Trail, August 10 & 11
Our second annual work trip on Maligne Pass/Trapper Creek Trail in partnership with the Jasper Trails Alliance was a huge success. A cumulative 126 hours from 21 volunteers created a corridor through a field of impenetrable willows, sightlines cleared a densely vegetated area between the willow field and Trapper Creek Campground and all small deadfall on the incoming trail was removed.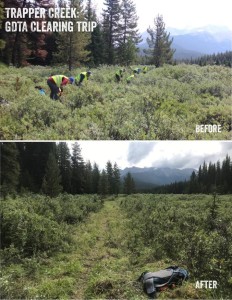 Trip #11 concurrent with Trip #12 – David Thompson Heritage Trail, August 29 to September 2
The 2019 work was essentially a continuation of work that began in 2018 with clearing and rehabilitation of the first 8 km of the David Thompson Heritage Trail from its trailhead at Cairnes Creek (end of the Blaeberry FSR) to Lambe Creek. In 2019 our objectives were:
1) Finish this work to the Banff National Park boundary at Howse Pass, a further distance of 5km.
2) Stabilize and improve (by installation of a handrail, stiffeners and wire mesh) the 2-log bridge over Lambe Creek that had been built in late 2018.
3) Make other improvements and enhancements to the first 8 km section, rebuilding, restoring, and reinforcing the trail tread.
All of the above objectives were met successfully. The entire 13-km length of the David Thompson Heritage Trail is now completely restored and suitable for foot travel.
Thank you! – Special thanks go out to all of our hard-working volunteers who built, maintained or mapped the trail this year, and everyone who spent countless hours over the winter months getting official authorizations, planning and making sure these trips went smoothly. Well done!
And thanks to our sponsors and partners whose generous donations and support were a huge part of our successful trail work in 2019: MEC, Teck, The North Face, Alberta Equestrian Federation, Columbia Basin Trust, Stihl, Alberta Environment and Parks, Recreation Sites and Trails BC, and the Jasper Trails Alliance.