Trail Conditions Update – APRIL 17, 2015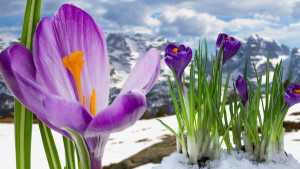 Spring is transition time on the GDT. Hiking trails at lower elevations vary from bare and muddy to slushy and icy, while trails at higher elevation remain snowbound with potential avalanche risk. Trails can be icy in the morning but warm daytime temperatures are creating slushy and slippery conditions. Snowshoes, cleats and/or poles are recommended for hikers.
There has been some recent snowfall in April and avalanche conditions still exist, especially at higher elevations so always check the latest avalanche bulletins before setting out.
Tick season has started. Be extra careful when in areas with a lot of underbrush and check yourself and your clothing after your hike.
---
Access Roads Update:
Annual Winter Closure of Forestry Trunk Road 940 from December 1 to April 30, from Cataract Creek Campground to the junction with the Plateau Mountain access road.
Annual Winter Closure of Highway 40 from the Kananaskis Lakes Trail to the junction of Highway 541 between December 1 and June 15. Construction work continues from South of the winter gate to Junction Highway 541.
Annual Winter Closure of Highway 532 from December 1 to April 30, west of the staging area of the Indian Graves Campground to the intersection of the Forestry Trunk Road 940.