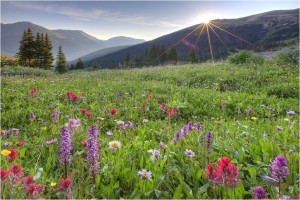 Trail Conditions Update – AUGUST 12, 2014
The GDT is mostly dry and snowfree, and wildflowers are in bloom! As a result of last summer's flood damage to the trail and bridges, some trails remain closed in 2014 (see below). It is recommended that anyone planning to hike the GDT this year research the status of any trails you wish to use and exercise additional caution and allow adequate time to route-find and safely navigate unforeseen obstacles.
Trail Closures and Notices:
TRAILS RE-OPENED 

–

 With the Spreading Creek Wildfire now under control, the Owen Creek Trail, the Howse River/Pass Trail and the GDT southeast of Hwy 11 have all re-opened.
TRAIL CLOSURE – Elk Lakes Provincial Park: Lower Elk Lakes trail beyond the campground (between Lower and Upper Lakes) and the trail from Upper Elk Lakes to West Elk Pass are closed due to washed out bridges and sections of trail. DETOUR: Use Elkan Creek trail from the parking lot to Elk Pass (4km).
ACCESS TRAIL CLOSURES – Kootenay National Park: Tumbling Creek Trail remains closed for the summer.
TRAIL RE-OPENED 

–

 

Numa Creek Trail reopened on July 24.

Cairnes Creek: The bridge is washed out making this a potentially dangerous ford. It is recommended to cross early in the morning when glacial melt is lowest.
The Lambe Creek bridge is badly damaged so it is recommended to ford the creek further downstream and avoid using the broken bridge.
---
Access Roads Update
Alberta:
Highway 11 and Highway 93 are open.
Highway 40 is open from Highway 1 to Highway 541 but traffic is detoured or limited to one-lane in some areas due to construction work, in particular near Lineham Creek and Cat Creek where new bridges are being constructed. For more information, check out Alberta 511.
Construction continues on Forestry Trunk Road 940 south of Cataract Creek to the Hwy 532 junction. The road will be open every Friday through Monday for recreational users but closed for construction activities from Tuesday to Thursday each week until further notice.
Highway 532 eastbound and westbound from junction of Forestry Trunk Road 940 to Highway 22 remains open during road repairs.
The Oldman River Road is washed out approximately 10 kilometres from the junction with Forestry Trunk Road 940 with no timetable for repair/re-opening.
BC:
The Elk River Road accessing Elk Lakes Provincial Park is open.