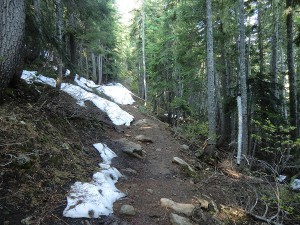 Trail Conditions Update – JULY 22, 2014
High elevation sections of the GDT still have some snow patches but trail conditions are improving quickly. As a result of last summer's flood damage to the trail and bridges, some trails remain closed in 2014 (see below). It is recommended that anyone planning to hike the GDT this year research the status of any trails you wish to use and exercise additional caution and allow adequate time to route-find and safely navigate unforeseen obstacles.
Trail Closures and Notices:
TRAIL CLOSURE – As per Ministerial Order 43/2014, the GDT is closed at the Owen Creek trailhead to Pinto Lake due to the Spreading Creek Wildfire burning on the eastern boundary of Banff National Park about 10 kilometres east of the Saskatchewan River Crossing. The wildfire is being held but there is still significant smoke in the area. Highway 11 and Highway 93 are open but expect delays. Check the Alberta Wildfire Report for the latest information. DETOUR: Use Sunset Pass trail or Nigel Pass trail, 16 and 38 km north of the Saskatchewan River Crossing respectively.
TRAIL CLOSURE – Banff National Park: The Howse River/Pass Trail is closed due to the Spreading Creek Wildfire. No detour is available at this time due to the large size of backcountry area closed due to the wildfire.
TRAIL CLOSURE – Elk Lakes Provincial Park: Lower Elk Lakes trail beyond the campground (between Lower and Upper Lakes) and the trail from Upper Elk Lakes to West Elk Pass are closed due to washed out bridges and sections of trail. DETOUR: Use Elkan Creek trail and Elk Pass (east).
ACCESS TRAIL CLOSURES – Kootenay National Park: Numa Creek trail is temporarily closed due to a washed-out bridge. Tumbling Creek Trail remains closed for the summer.
Cairnes Creek: The bridge is washed out making this a potentially dangerous ford. It is recommended to cross early in the morning when glacial melt is lowest.
Highwood House store and gas bar are currently closed.
---
Access Roads Update
Alberta:
Highway 11 and Highway 93 are open but expect delays due to the Spreading Creek Wildfire.
Highway 40 is open from Highway 1 to Highway 541 but traffic is detoured or limited to one-lane in some areas due to construction work south of Lost Lemon Lookout to the junction with Highway 541, in particular near Lineham Creek where a new bridge is being constructed. For more information, check out Alberta 511.
Forestry Trunk Road 940 is now open from Highwood House to Highway 532. The section south of Cataract Creek is under construction so expect delays and rough conditions; caution is advised.
Highway 532 from junction Forestry Trunk Road 940 to Johnson Creek Bridge remains closed.
The Oldman River Road is washed out approximately 10 kilometres from the junction with Forestry Trunk Road 940 with no timetable for repair/re-opening.
BC:
The Elk River Road accessing Elk Lakes Provincial Park is now open.