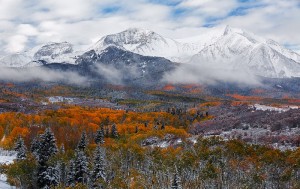 Trail Conditions Update – OCTOBER 7, 2014
Fall colours are here! Fresh snow has fallen on most of the GDT and has begun accumulating at higher elevations. Expect slippery, wet and muddy trail conditions but most trails are still passable. Nighttime and early morning temperatures are below freezing so be prepared for all weather conditions when travelling into the backcountry.
Trail Closures and Notices:
TRAIL CLOSURE – Elk Lakes Provincial Park: Lower Elk Lakes trail beyond the campground (between Lower and Upper Lakes) and the trail from Upper Elk Lakes to West Elk Pass remain closed due to washed out bridges and sections of trail. DETOUR: Use Elkan Creek trail from the parking lot to Elk Pass (4km).
ACCESS TRAIL CLOSURE – Kootenay National Park: Tumbling Creek Trail remains closed.
NOTICES – Cairnes Creek: The bridge is washed out making this a potentially dangerous ford. It is recommended to cross early in the morning when glacial melt is lowest.
The Lambe Creek bridge is badly damaged so it is recommended to ford the creek further downstream and avoid using the broken bridge.
The Maligne Pass trail in Jasper National Park has been decommissioned and is in poor shape. The trail from Pobokton Creek to Maligne Lake (approx 42 km) is no longer being maintained by Parks Canada so expect deteriorating and overgrown trail conditions; long pants are recommended. The Maligne River bridge has been removed but the river can be easily forded (knee deep in mid-summer). Most other bridges are still in place.
The Aldridge Creek Trail between Fording River Pass and the Kananaskis Power Line is in very poor shape. The upper part of the trail is very overgrown. The creek has washed away much of the lower section of trail but it is still passable by following the rocky banks of the creek.
---
Access Roads Update
Alberta:
Highway 40 is open from Highway 1 to Highway 541 but traffic is detoured or limited to one-lane in some areas due to construction work, in particular near Lineham Creek and Cat Creek where new bridges are being constructed. For more information, check out Alberta 511.
Construction continues on the Forestry Trunk Road 940, from the Junction highway 532 to the Junction highway 541. The road is scheduled to be closed Sept. 30 – Oct. 9 for culvert replacements from 6.5km north of the Jct. of Hwy 532 to 10.5km. Outdoor enthusiasts may still access the Forestry Trunk Road on those dates but through traffic will not be permitted as the entire roadway must be excavated. Barricades will be placed at convenient turnaround spots.
Highway 532 from junction of Forestry Trunk Road 940 to Highway 22 remains open during road repairs.
The Oldman River Road is washed out approximately 10 kilometres from the junction with Forestry Trunk Road 940 with no timetable for repair/re-opening.
BC:
The Blaeberry FSR is closed to non-industrial traffic at 11.5 km and washed out completely at 19.1 km. From this point, you can still travel the additional 22 km on foot or bike to the David Thompson Heritage Trailhead (on the GDT) near the Cairnes Creek Recreation site, which is deteriorated and partially flooded but there is still a reasonably dry, flat area for camping