by Dustin Lynx
What a delight to come across a booth of eager volunteers promoting the Great Divide Trail Association (GDTA) at the recent Banff Mountain Book and Film Festival. I chatted with Dave Hockey, one of the board members, while he swiped my credit card through a device on his smartphone. He demonstrated to the other volunteers how to collect an electronic payment for a membership. How amazing! I had just become part of an organization dedicated to what was a little-known wilderness route when I had hiked it almost 20 years ago.
Dave is a tall, middle-aged guy with a big smile and an even bigger voice. He told me a bit about his recent hike on the Pacific Crest Trail (PCT), the long trail recently brought into the public's psyche through "Wild", the book and, especially, the movie. He described how land managers have had to adopt a quota system for thruhikers (those hiking from point A to B). Where there used to be a dozen people camped out at a resupply and staging area like Kennedy Meadows in California, there could now be hundreds! I couldn't imagine it. When my then girlfriend, Julia, and I hiked it in '94, we were considered vagabonds and no one could understand what we were doing out there.
In 2016, the Great Divide Trail (GDT), or at least the idea of it, turns 50 years old. With leaders like Dave and a dedicated group of volunteers who are as adept at using a brush saw as writing letters to government authorities, the crowning trail of the Rockies is about to become reality.
In case you had to go back and read it twice—yes, the GDT is that old! The first recorded mention that I can find of the route goes back to the minutes of a national parks standing committee meeting in 1966, in Banff and Jasper (Whyte Museum and Archives). At that time, the Girl Guides of Canada proposed that the parks create a hiking trail along the continental divide, 1,200 kilometres along the Alberta–British Columbia border in the Rockies. Soon afterward, a local architect and present-day holder of the Summit of Excellence Award, Philip DeLasalle, submitted plans to Banff National Park to build a series of shelters every 15 kilometres on the trail in three of the national parks, to spur outdoor activity and hiking as a way of life.
This was an exciting time for hikers. South of the border, the USA had passed the National Trails System Act, in late 1968, which officially mandated the founding of the Appalachian Trail on the east coast and the PCT on the west, with an additional 14 trails in the hopper. Jim Thorsell must have sensed that excitement when he published a provisional trail guide for the GDT in 1970.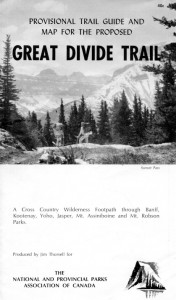 His description of the trail through Jasper, Yoho, Kootenay and Banff national parks appeared in the very popular Canadian Rockies Trail Guide the following year. That guidebook, now in its ninth edition, spread the word to hundreds of thousands of people and far outside Canada.
By 1974, the USA had thousands of kilometres of continuous trail in development. Where were the long-distance trails in Canada? We had the 800-kilometre Bruce Trail in Ontario, but nothing in the west, certainly nothing to rival the PCT. That's when a group of students at the University of Calgary got together with the Alberta Wilderness Association and received a grant from the Government of Alberta to explore and survey a potential route for the GDT south of Banff National Park all the way to Waterton Lakes National Park, near the US border.
Cliff White, a retired wildlife biologist speaks favourably of his time on that crew. In a 2001 Backpacker article, he is quoted as saying, "We got to hike all over and get paid for it—kind of. There were three groups of two. We had three old cars we wrestled down muddy back roads, then we'd spend days hiking around, surveying the terrain." (See more at www.backpacker.com/trips/international/canada-s-great-divide-trail.)
These students went on to found the GDTA as a non-profit organization that built trail and advocated for protected areas along the corridor surrounding the trail. Their efforts produced the only existing trail built and signed as the GDT—about 100 kilometres of it, largely in Kananaskis Country, south of Highwood House. That first incarnation of the GDTA lasted for over ten years.
When I hiked the GDT in 1996 between semesters at the U of C, the word on the GDT was out there but detailed information about the route outside of the national parks was sparse. After hiking the route, I decided to hold on to all my research and write a guidebook — which became another degree all on its own! Rocky Mountain Books published the guide, describing what I called a wilderness route, in 2000. I warned would-be hikers that it's not like the PCT and that they would need topographical maps and perhaps even a gadget called a GPS — the handheld models were new at the time.
Fast-forward a decade and the GDTA is once again in existence, and here is Dave grinning widely and talking about a rising and vibrant membership. The brochures are sleek, but the handshake is real. One of the GDTA's goals is "to obtain formal recognition and protection of the Great Divide Trail Corridor". Shaking Dave's callused hand, I believe it to be true.
Now, all that remains is to look at my calendar to see if I can join the next trail maintenance gathering and meet others who are as energized about the GDT as Dave and I are. Perhaps I'll see you there too.
Areas of Interest
The GDT is 1,200 kilometres long and is accessible at many places. One of the most gorgeous spots is Owen Creek, the first drainage outside the Banff National Park gate on the David Thompson Highway no 11, west of Nordegg. There is a small pull-out there and you need to walk for only about 20 minutes to reach the incredibly scenic gorge north of the highway. Turn around after 20 minutes or perhaps you'll feel the tug to continue north for another 20 days. That's the true magic of a long wilderness trail: it beckons you.
---
Dustin Lynx is the author of Hiking Canada's Great Divide Trail (2nd ed, Rocky Mountain Books 2007). He lives with his family in Canmore, where he can be close to the trails he loves. Recently, he started a publishing company called Imaginary Mountain Surveyors. One book was shortlisted for the Mountain Fiction and Poetry Award at the Banff Mountain Film and Book Festival in 2013, and another won that prize in 2014. Hiking is a lifelong passion for Dustin; writing and publishing are a couple of ways that he has found to share that inspiration with others. Find out more at www.imaginarymountains.com.