Author: Kyle Philibert-Palmer
Background: Kyle & Natasha Philibert-Palmer thru-hiked the GDT in 2021 with their 8 month old son "Toothless". They write about their adventures, including this hike, on their website http://backpacksandbikeracks.com

When we were planning a family, we had one thing in mind: We planned on sharing the outdoors and hiking with our child, and if they would allow us, go on a thru-hike with them.
We never thought at that time we would do another GDT thru-hike with our future infant son. The GDT was, in our minds, something we would do again in 10 years or so when the GDT becomes more popular, better supported and our kid could carry themselves and some of their gear. Maybe we could do part of it along with a Continental Divide Trail thru-hike if we wanted to think big.
When the pandemic hit, we initially thought it would be over after a few months and a Pacific Crest Trail (PCT) thru-hike would be feasible. But after close to a year of travel restrictions, public health measures, and uncertainty with PCT permits we found ourselves thinking, "Is the GDT feasible to hike with a baby?". After all, we thru-hiked the GDT in 2018 and had a strong understanding of the trail and logistics, and we have been volunteering with the GDTA ever since, and the GDTA has resolved a lot of the challenges we had on our 2018 thru-hike.
After confirming our son (trail name "Toothless") liked hiking with us (something we've now been doing with him since he was 3 weeks old) we started thinking about the GDT in more detail and started planning how we'd thru-hike the GDT with a baby.
Our biggest challenge would be the long food carries. Our biggest fear would be a few of the water crossings.
We helped mitigate the food carries by receiving an incredible amount of support from trail angels who would help us with resupply drops, sending resupply packages to places not on the GDTA list, staying at a lodge one night, and maintaining a good old fashioned calorie deficit at times. This would still leave our packs heavy, but it seemed doable.
For the water crossings, the GDTA built some new bridges, and for the rest we just had to see how it went. We planned a few bail points, planned major crossings to be as early as possible, and accepted the fact we might need to camp out for a day to let the water levels get lower.
We started our thru-hike on July 5th, the same day we started in 2018. This time we planned on taking longer (58 days instead of 49 days) to go less far (to Mt Robson instead of to Kakwa).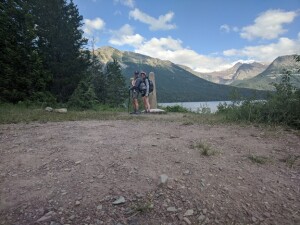 We started with uncertainty. There was an unprecedented heat wave – right when we were travelling to the trailhead and thankfully before we started. The longest Toothless had gone backpacking was 6 days (82km on the Sunshine Coast Trail) and we didn't have a solid daily routine yet. We committed to hike Section A to Coleman, where our car was being stored at A Safe Haven B&B, and decide if we wanted to continue or not while there. If we were not having fun, or if the days are too hard and long, then we would have to call it and change our plans to doing shorter stretches and section hike instead.
The first few days in Section A were hot with more elevation gain and loss than we anticipated, but we pushed ourselves and managed to stick to our itinerary despite late starts and needing to finish early in the evening to feed Toothless dinner and get him in bed. We quickly settled into a routine of alternating between hiking as quickly as possible during Toothless' naps and extended breaks to let him explore and play in the dirt. This was exactly the confidence boost we needed and by the time we reached Coleman, all three of us were excited to keep going on the trail.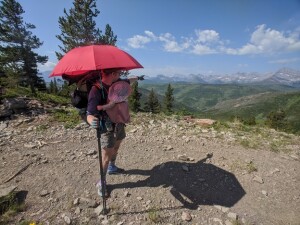 Sections B and C provided us with more great weather and beautiful views. We spent 22 nights in row sleeping outdoors before we reached Field! In addition to enjoying the outdoors with Toothless, we got to see him ham it up and socialize with other hikers on the trail – a welcome surprise as we weren't sure how our pandemic baby would interact with other people.
Then we hit our first major hiccup of the trip in Section D; I got an overuse injury in my ankle halfway through. So, we bailed off the trail and took 4 days off to rest before skipping ahead about 50km to Section E to stay on schedule and keep our reservations.
Section E is one of our favourites, but unfortunately, this year we had a lot of precipitation. With Toothless we planned doing the section in 11 days. Out of those days we had 7 days of rain and 2 days of snow. This made the section challenging for Toothless since he didn't get the best of views (hard to see anything when it's completely white or grey out) or much of a chance to wiggle around. Thankfully the water crossings were straight forward; the Maligne River had the lowest water level we have seen in the past 3 years. While we weren't worried too much about the Maligne River ford itself, it was a good data point for the remaining water crossings north of here since we have crossed it a handful of times before. But hiking over the Notch in snow was probably the only time on the entire trip I knew we made a bad decision and regretted it. Being up on the Notch with poor visibility, snow, and a phone that turned off due to the cold while we were carrying my child made me very concerned. I was doing everything I could to keep my composure so we could focus on making good decisions as we progressed. Natasha was thankfully cool as a cucumber. A few other groups also got caught up there and we all helped each other out with navigation and ensuring we kept sight of each other.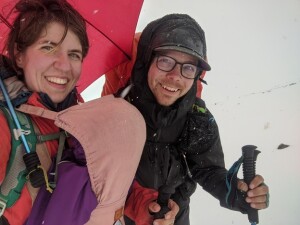 After our experiences in Section E, we carefully looked at the weather forecast for Section F and opted to finish at the Moose River Trailhead instead of Blueberry Lake (both of which are alternatives to the Berg Lake Trail which was closed this year). Finishing at Moose River allowed us to have a more balanced forecast and cut out a couple days of forecasted heavy precipitation and snow from our itinerary. This worked out for the better and it was overall a much more enjoyable section for Toothless. Knowing how the rest of the GDT is, I was really pleased with the Moose River Trail. The floodplain and trail along the river has the same flavour as several other parts of the GDT north of this, so it felt less like we were bailing and more like we were experiencing the GDT. We also lucked out and finally experienced the trail without wildfire smoke for a sustained period – so we got to enjoy the views throughout the entire section. This was new for us because during our 2018 thru-hike the wildfire smoke was the worst north of Section F.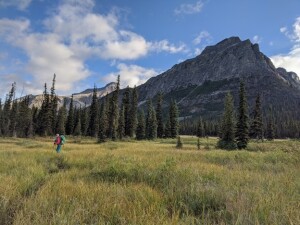 Hiking the GDT with our son has been the most rewarding experience I have ever had, but it is probably the most challenging thing I have ever done as well. Thinking of these things separately – hiking the GDT in 2018 was the hardest thing I had done at the time. After that, raising our son then became the hardest thing I have ever done. So adding the two together is like hard squared.
Toothless has loved hiking since our first hike with him at 3 weeks old. What he loves is he gets to be carried by his mom or dad, which means being close with us and able to interact with us. During our thru-hike on the GDT he has grown so much. He started babbling, and we make sounds together, have conversations, and sing songs. When singing or in a good mood, he likes to bounce and dance in his carrier. He also started playing peekaboo, which is completely doable in a carrier while hiking. He also still loves just snuggling with us.
He also loves seeing new things and having the opportunity to interact with his environment. Every day on trail, he got to see a new type of tree, flower, or find a new object (like a sign or bear locker) to interact with. Through the GDT he went from noticing objects that are close up to pointing to far away objects and getting our attention. On ridge walks or in a floodplain, he would point to a far away mountain range and say the same thing he says when he sees a tree he wants to touch "da; da; uh".
He also really loves moving, climbing, and crawling. The wilderness is a great place for him to crawl over and on things. He crawled over "stairs" for the first time on trail and stood unsupported for the first time. I hope to never forget those moments.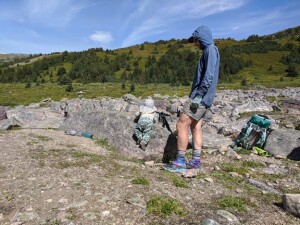 It's easy to be cynical of a trail when you are immersed in it. Maybe you wish there were better climbs or views in a section. Maybe you wish there was actually a trail and not a bushwhack or river route. Maybe the campsites are in poor condition. This is, I think, especially easy to have happen when you have hiked a trail before. But when you hike it with a baby you start to see the wonder through their eyes and look for new or interesting things you maybe haven't paid much attention to before.
Even though Toothless might not have conscious memories of the trail as he grows older and we encountered several challenges, we would make the same decision again to thru-hike the GDT as a family. I hope he continues to love the outdoors as much as he does now, and that he always reminds us to stop and enjoy the small things on trail too.