By Pete Michelinie and Cassidy Metcalf
My wife Cassidy and I took to the Great Divide Trail in July 2015 for our honeymoon and had an amazing adventure.
To give you a brief background, I have been in love with long distance hiking since walking the Appalachian Trail after graduating from trade school in '08. Serious wanderlust later took me on the Pacific Crest Trail in '10 and Continental Divide Trail in '12. I decided to put my education to work and took a job in Vermont building furniture. On the day of my interview I met Cass, who had just returned home after living in Costa Rica for a few years. Soon after meeting we began to date, then we moved in together, then we hiked the Long Trail, and then the Annapurna Circuit, where at 16,000′ on a snowfield heading towards Talicho Tal I proposed… and she said yes! So you get the idea, we are both have itchy feet and love adventuring, which naturally led us to the GDT.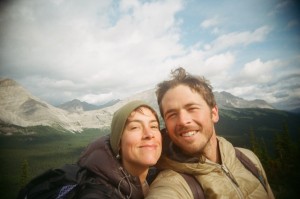 The idea about hiking the GDT came to us while hearing a talk given at the 2013 ALDHA West gathering where I was receiving my triple crown award. Cam "Swami" Honan gave a great talk about his mega-hike he did in 2012/13. Out of all the trails he hit in North America the GDT seemed to be very near and dear to him. Cass picked up on it and was the one who really pushed for the idea of walking it for our honeymoon. I couldn't say no.
We set off July 14, 2015 from Waterton Lakes National Park and headed north. I am a big advocate for technology-free hikes, and so we were free of cellphones, GPS, and digital cameras. There is nothing like the reward of finding yourself when navigating with map & compass, and I wanted Cass to know the feeling. She got the gist of it by the end of the hike, but I was our lead navigator for most of the trip. She was the naturalist, carrying a massive (by light-weight hiking standards) field guide to the North American Rockies. We were soon identifying all plants and animals we saw, eating Fireweed leaves and chives with dinner almost every night, Huckleberries for breakfast and lunch if we were lucky.
The trail took us through some amazing country. The views were stunning, the weather was harsh at times, and the trail was all over the map. The sections in National & Provincial Parks were great, but in between there was some grade A bushwhacking. In one section we didn't see another soul for 5 days straight. Nobody, not even an ATV or car from far away. I had never experienced isolation like that before on any trail.
Hiking the GDT on our honeymoon was the test of all relationship tests. We experienced extreme highs; wilderness like no other, beautiful vistas, and enjoyable terrain – followed soon thereafter by some of the most difficult hiking I've ever known. The first three days included a triage of hardships; hail and lightning on an exposed ridge, knee crushing terrain, and getting lost in the wilderness. Pulling through in one piece, healthy and happy, made it all the more rewarding & memorable.