By Jen Peddlesden
Who would think that World War One (WWI) had anything much to do with the Great Divide Trail (GDT)? When I received a copy of Canmore and Kananaskis History Explorer by Ernie Lakusta as a gift from some hiking pals, its pages brought a surprise that quite a number of Rocky Mountain peaks are named after either WWI generals or battleships. Some of these mountains appear along the GDT through Kananaskis, Smith-Dorrien and the Spray Lakes sections. With the centenary of WWI beginning in 2014, it is fitting to feature a few of these peaks in this series. Starting with the most southerly of the peaks I have chosen, we have Mt. Indefatigable.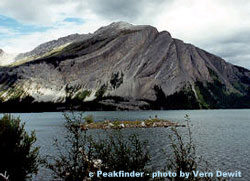 It is one of the 'battleship' peaks. The 2670-metre peak was named in 1916 by A.O. Wheeler of the Boundary Commission after a ship that took part in the Battle of Jutland. In the Spray Range, it looms over Upper Kananaskis Lake. Though the Stoney Indians named it Ubithka mabi ('mountain of the nesting eagles'), Wheeler renamed the peak Mt. Indefatigable. According to Lakusta, Wheeler disregarded the mandate of naming based on natural history and 'in a fit of patriotism' named most of the mountains surrounding the Upper Kananaskis after WWI generals and ships.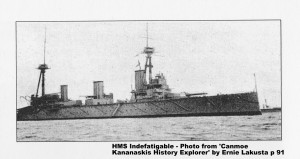 The battleship Indefatigable was part of the British cruiser squadron at North Sea Battle of Jutland late May 1916 between the British Royal Navy and the German High Seas Fleet. The Indefatigable was commanded by Captain C.F. Sowerby and had the ominous distinction of being the first ship sunk at this battle. One of the cheapest built by the British Royal Navy, it and many sister ships suffered the same fate of lacking armour to resist attack. Indefatigable received two direct hits and sank 17 minutes after entering the battle. Only the captain and two crew of 1020 members survived. This ship was named for a more robust vessel, another Indefatigable, a 44 gun 18th century frigate which destroyed the French battleship Droits de L'Homme during the Napoleonic War in 1787.
In 1964 Geological Survey reported gypsum on Mt. Indefatigable's slopes. It was a daunting task to build a road to the mining lease owned by Alberta Gypsum and only one carload was ever removed. The road can be seen as a thin line traversing the slope.
There is no official first ascent, but there is record of Walter Wilcox setting up a tripod on the south summit in 1901. Today it is a popular scramble and a mountain one sees traversing the GDT early in the Kananaskis to Field section in Dustin Lynx's book (p 109) 'Hiking Canada's Great Divide Trail.'
END