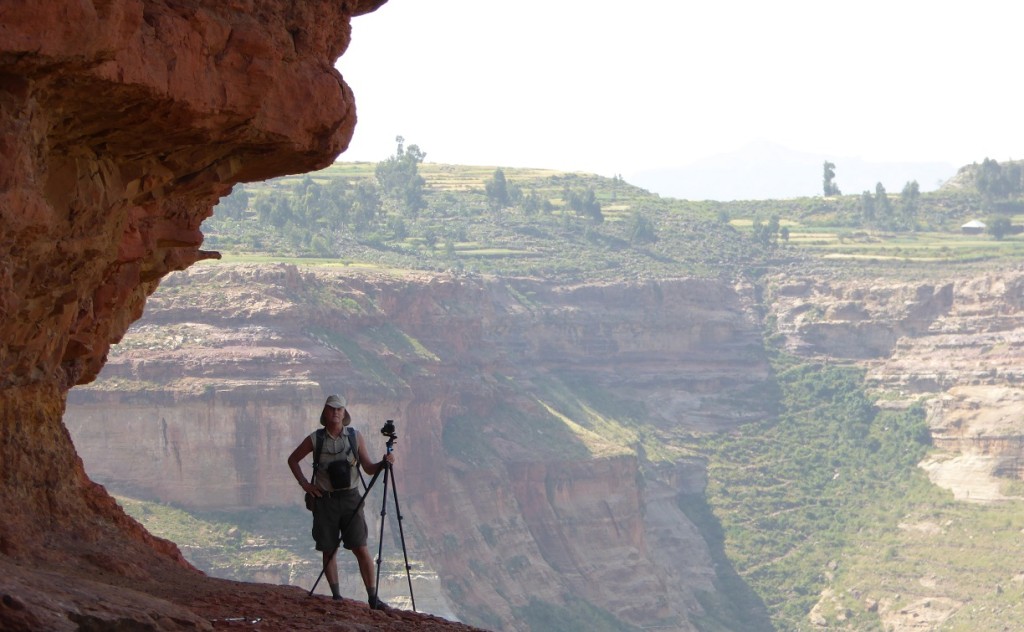 We're sitting in a coffee house in Calgary's historic Inglewood neighbourhood early on a Sunday morning.
The sun is streaming through the window as Brian Keating, a naturalist, nature guide and a natural talker keeps a few locals enthralled. He talks of misty mornings in Africa's Rift Valley, of snorkeling with humpback whales off the coast of Mozambique, encountering a snow leopard on a kill while hiking in the Himalayas and getting a rare chance to watch chimpanzees hunt in Uganda. Keating has been (almost) everywhere but there are still a few destinations left on his bucket list. "I want to see the wild tigers in India and go to Mongolia".
Keating is a charming, energetic, get-things-done kind of guy who has turned a passion for nature and travel – and talking about it – into a career. A career that started with the Canadian Wildlife Service then moved on to the Calgary Zoo, where he worked for nearly three decades. The Zoo recently honoured their intrepid former employee by creating the Brian Keating Conservation Endowment Fund.
But while his remarkable, international success has seen him travel, many, many times to just about everywhere, he hasn't forgotten the mountains and the plains where he grew up. "We have in our backyard," he gestures in the direction of the Rockies, "a significant international resource. It's as good as anywhere in the world, and sometimes, we take it for granted."
Keating, who is in a position to judge, calls the mountains "world class stuff, profoundly beautiful". He has spent his life, here, in Africa and beyond, battling the pervasive philosophy that "if you can't make money off it, then what use is it?" For Keating the Rockies, and the whole natural world move him on a spiritual level. "My church is the outdoors," he says, "for the good of the earth we have to preserve it".
One of Keating's favourite memories of the Rockies is going to Banff in 1986 with Jane Goodall (who he helped bring to Calgary for a series of talks). Goodall of course has famously spent her life studying chimpanzees in Tanzania and revolutionizing scientific thinking about the animals. "In Banff," Keating remembers, "it was like somebody had switched on the wildlife. We saw everything: bighorn sheep head butting, coyotes diving face-first into the snow hunting rodents, and bull elk in testosterone-fueled battle, antler to antler." Keating has maintained his links with Goodall, and continues to support her conservation efforts. He recently returned to her remote research camp in Tanzania where he tracked and observed some of the same chimpanzees Goodall has made so famous.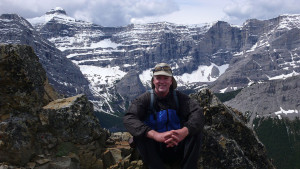 Keating took his most recent walk on the Great Divide Trail (GDT) last summer and speaks highly of the way it helps hikers get into "our amazing backcountry". The GDT stretches from the US border on the southern edge of Waterton Lakes National Park to Kakwa Provincial Park in BC, north of Mount Robson (the tallest peak in the Canadian Rockies).
The Great Divide Trail generally follows the height of land between BC and Alberta (it crosses the provincial boundary no fewer than 30 times). Much of it is in national or provincial parks. But crucial links between the parks are maintained and improved by a group of dedicated volunteers from the Great Divide Trail Association. Every summer, self-supporting volunteer teams clear brush and deadfall, restore washouts and build, or sometimes re-build, rustic bridges over mountain streams.
Keating says the name, Great Divide Trail, reminds him (and he is one of the few people who would be reminded of this) of the Congo-Nile Divide Trail, which roughly follows the height of land between the Nile and Congo Rivers and travels in part through the southern portion of the Nyungwe rainforest in Rwanda.
Keating's knowledge, vast international experience and just plain good-natured enthusiasm for mountains and plains and the creatures and plant life that live there, make him one of the most engaging speakers about the natural world, not just in Canada, but anywhere.
Check out a video from Brian's latest adventure to the top of an active volcano! http://www.btcalgary.ca/videos/african-volcano-touring/
Hear Brian Keating in person at Calgary's downtown public library on Thursday, March 15th. It will be an evening of stories with 2017 Canadian Outdoorsperson of the Year, as Brian Keating takes us on a high-energy adventure through some of the major mountain ranges of the world. Brian has hiked, explored and advocated for wildlife in such places as the Himalaya Mountains in northern India (snow leopards), in Rwanda (mountain gorillas) and of course Canada's own Great Divide Trail. Come hear about the wildlife he has encountered and how they have adapted to life in high places across the globe.
Brian Keating: A Walk in the Mountains
Thursday, March 15 @ 7:00pm
John Dutton Theatre, Central Library
616 Macleod Trail SE, Calgary AB
Tickets are $30 regular, $20 for GDTA Members, $15 for students and are available on Eventbrite. All profits from this event will go towards the completion and long term protection of the Great Divide Trail.