Section A: No updates.
Section B:
The High Rock Trail is officially the main route of the GDT this year – woo hoo! The opening ceremony for the HRT will take place on July 22 – stay tuned for more details.
The GDTA will cease support of the old route from Deadman Pass to North Fork Pass.
Section C:
Sunshine Village will be open again this summer which means the cafe, restaurant, accommodation, gondola and shuttle service to Banff will be available. Availability of resupply cache service is still yet to be confirmed.
Peter Lougheed Visitor Centre will not be accepting resupply packages again this year but Nicole Sharpe has generously offered to deliver resupply boxes to the Elk Pass Trailhead in Peter Lougheed Provincial Park to GDTA members for a fee of $25 and to non-members for $40. Contact Nicole through Facebook or at nicole.d.sharpe@gmail.com to book your delivery service and receive mailing instructions. Once you've paid the fee, Nicole will give you her Zoleo satellite communicator number in case on-trail communication is needed.
Section D:
Improvements to the Collie Creek alternate route will take place this summer, making it highly recommended this year.
There is a small route change at Conway Creek where the trail heads towards the Howse floodplain. Rather than fording Conway Creek back and forth, the route stays on the north side of the creek avoiding the two fords of Conway Creek.
Section E:
The Six-Passes Alternate Route is closed in 2022 and no random camping permits will be issued.
The three campgrounds on the Maligne Pass Trail previously available online as 'Maligne Pass North' (Mary Vaux, Mary Schäffer, Trapper Creek) are listed in the online reservation system separately, 1 site per night at each campground, with the exception of Trapper Creek campground which is closed this summer.
Reminder that reservations for the two campgrounds that Parks Canada opened to GDT hikers last year – Cline and McCready – are both only available via phone.
Section F:
The Berg Lake Trail remains closed and it will not open this summer so hikers should plan accordingly when arranging resupply or exiting the trail.
The Moose River Trail remains open so hikers can connect with Section G.
Exiting via the Moose River Trail to Highway 16 is another option.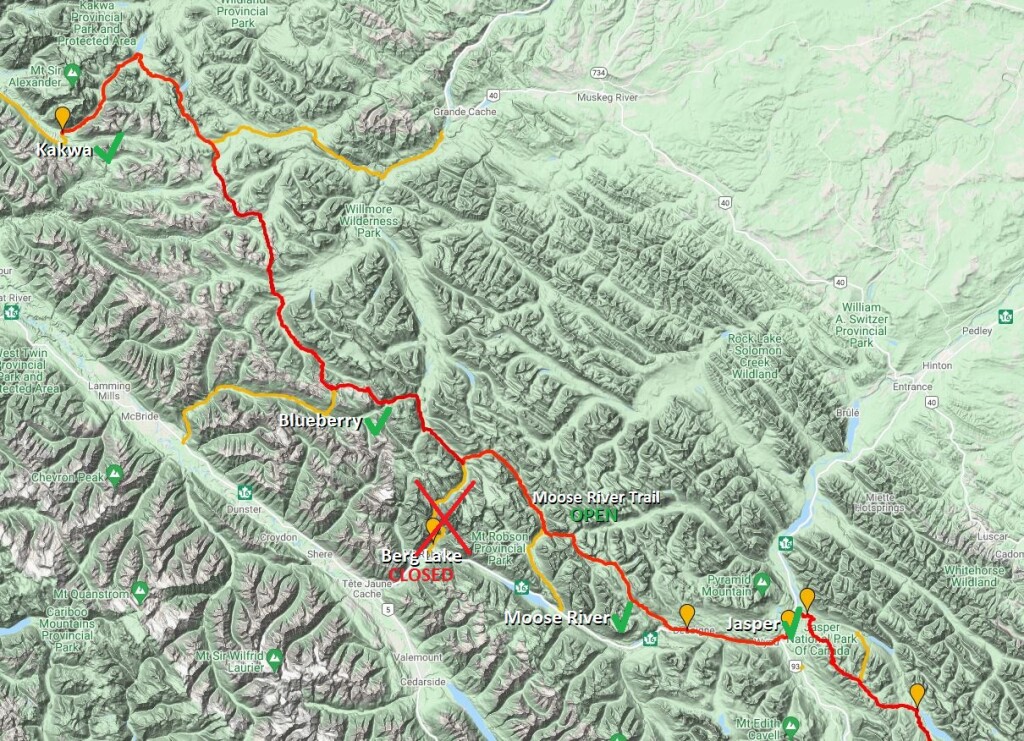 Section G:
With the closure of the Berg Lake Trail, exit or resupply (with support) via the Blueberry Trail are good options.
Improvements to the Walker Creek FSR took place last summer but it's uncertain if the road will be re-opened to vehicles all the way to the Bastille Creek trailhead.
Robson Valley Adventures Unplugged has confirmed they will be providing shuttle and resupply services to the Kakwa and Blueberry trailheads this summer.
Following last year's successful maintenance trip in the Jackpine valley, the route has been updated in several places. More of the old trail was discovered and restored but it does mean that the trail now fords the Jackpine River more frequently (at least 6 times more than previously). In normal water level conditions these fords are easy and only knee deep but hikers should be aware.
Two additional campgrounds were discovered in the Jackpine valley and have been added to the GDT map & app: Gilbey's camp and Castor Creek campground.
Note the name of Sheep Creek campground has been changed to its historic name "Copper Kettle camp". 
Happy trails and good luck out there in 2022!