By Jen Peddlesden
This past July, the Great Divide Trail Association (GDTA) members created new trail in the Dutch Creek Area, circumventing the difficult and sometimes precluded route of the Great Divide Trail (GDT) in British Columbia. You can read more about trail creation here.  This new trail, means new peaks to admire. The High Rock Trail opens views to two impressive mountains: Gould Dome (or Gould's Dome) and Mount Erris.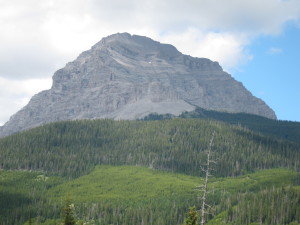 Striking view of Gould's Dome
The moniker Gould Dome was originally applied to another mountain. Lieutenant Blakiston of the Palliser Expedition 1857-1859 named what we now know as Tornado Mountain, 'Gould's Dome,' after a well respected  British ornithologist, John Gould. The name did not stick. Fifty-seven years later, the Boundary Commission renamed it Tornado Mountain in respect of its positon in a storm centre and local climbers' experience thereon. Not wishing to disrespect John Gould,or Lieutenant Blakiston the Commission transferred the Gould name to a nearby lower peak. Gould Dome (2891 m) was first ascended in 1913 by 'Bridge' (Morrison P. Bridgland), a Torontonian, a climber, and a respected and tireless Dominion Land Surveyor. Gould Dome is 2891 m and is in the Upper Dutch Creek Valley just east of North Fork Pass right in the line of sight of the new High Rock Trail.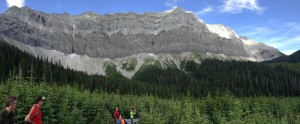 Mount Erris backdrop for lunching volunteers during High Rock Trail building
Mount Erris is another peak in view for a number of kilometers along The High Rock Trail. The divide runs along the ridge of this mountain – BC on the west side, Alberta on the east. At 2825 m it is the highest peak in the High Rock Range between North Fork Pass and Crowsnest Pass. The first ascent was by the Topographical Survey in 1913, and it was named by 'Bridge' in 1916 after a coastal headland in Mayo County Ireland. One of a number of peaks in the chain of mountains along the divide, it provides a pleasant days scramble though getting there may take longer than the ascent! (See Alan Kane's guidebook 'Scrambles in the Canadian Rockies.') Mount Erris' east slope provided a magnificent view as trail building volunteers rested at lunchtime during the trail building across the valley. Such restful and inspiring views are a lot of what traveling the GDT is all about and it is fulfilling to know that the work done this summer will provide a more pleasant and beautiful route for future hikers.