By Fabian Kurte
The bachelor's thesis is done. The certificate is still not printed but I am already dreaming about the wild North American Rocky Mountains. I want to get away; for a while at least. Experience some of the nicest backcountry, do it at my own pace. Soon I find out about the "big" trails. Pacific Crest Trail, Continental Divide Trail, Appalachian Trail, but somehow those sound too worn out, too crowded, too developed and too long to be achievable during my summer break. Luck finds me reading a blog written by Erin "Wired" Saver and I am hooked. At this point, I don't know if it's just her good writing and pretty pictures, but I want the same wilderness experience she's talking about on the Great Divide Trail in the Canadian Rocky Mountains.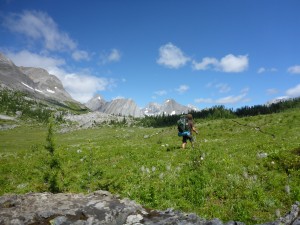 Fabian making his way through the wilderness
I organize the most important parts or my trip and fly to San Francisco. I try to get the rest of my thru-hiking plans sorted while travelling through the US and grow more excited every day, telling people about my big summer plans. Unfortunately a lot of things go wrong. A friend of mine cannot join me as planned, the guide book is sold out, an ultra-light tent I ordered doesn't arrive, some of the campgrounds I need to book are already full, the Canadian postal service is about to strike and then a knee injury interrupts my training. Staying positive, I see that the long-term weather forecast predicts a warm, dry summer thanks to El Nino.
Suddenly it's my planned start day. I hitch-hike to Waterton and begin my adventure. I develop a routine as I fight my way north, up a hill, down a mountain, along a river and through valleys. The trail is versatile and every day something new overwhelms me whether it's a staggering mountain view, a raging river or a meadow of gorgeous wildflowers. I meet many different people from those on horseback for a few days of backcountry adventure, to weekend hikers to a person hiking all the way to the Arctic Ocean. Even though I don't know much about each person, I feel we are connected. This trail attracts special kinds of people looking for wilderness. I love this trail from the first to last day. The scenery, the wildlife, the trail itself, the solitude and the inspiring people I meet on the trail give me everything I had wanted in this summer.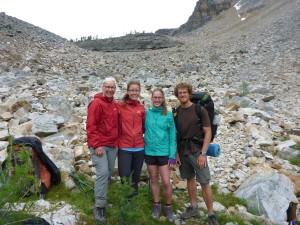 Fabian and fellow thru-hikers meet up on the trail.
As a bonus to my thru-hike I was incredibly lucky the annual GDTA Signature Trail Maintenance Trip fit into my schedule! Along with 25 other volunteers, I spent five days in the backcountry building new trail, a first in thirty years for the GDTA! It was an extraordinary feeling taking part in this and after my time building trail with these people, I knew I belonged. I feel that this community is something you won't find very often in your life. The work was hard but the food was amazing (and not just because I ate cereal, energy bars and pasta every day before). We had great talks and learned a lot about the trail and its history. After these days building trail, I continued on my thru-hike with a better understanding of how much work these guys put into the GDT to make it accessible for me and all the other crazy hikers. Thank you once again to all the volunteers and members at the GDTA!
The GDT wasn't my first long backpacking trip, but there were still a lot of new things to learn and overcome. For example, I had never hiked in big carnivore country before. Hiking through grizzly bear territory gave me an unpleasant feeling but at the same time it also inspired me. Bears, wolves and cougars are part of the wilderness in the Canadian Rocky Mountains and walking in the tracks of these animals is one of the reasons why this hike is so special. I battled with these opposing thoughts often. When the trail disappeared or when I was standing in the mud up to my shins I would think, "why am I doing this?!" while at the same time thinking, "don't complain, this is what you came for!"
Even though I had seen quite a few bears, I hadn't run into any problems until the day I got to Aldridge Creek. I was hiking down the washed out creek, looking at this and that, whistling every now and then to warn the bears. Suddenly, I saw movement out of the corner of my eye. A big grizzly bear was sitting about thirty metres away above me on the edge of a wash out eating berries. She had her back towards me and hadn't noticed I was there.  My mind raced along with my heartbeat. Shall I make some noise? Shall I go back or just continue?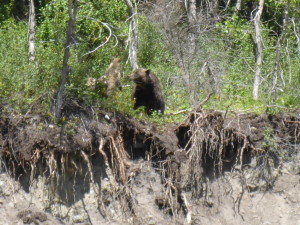 Grizzly Bear encounter is all a blur.
I was still standing in the middle of the creek when two little cubs appeared and I knew it was time to go. I walked quietly and quickly continuing downstream while grabbing my bear spray. Suddenly, the bear caught wind of my scent and freaked out. She blared loud and deep and sprinted to the very edge of the wash out. I was frozen in shock at how fast she was and how vulnerable I was standing in the creek. She reached the edge and carved her claws in the ground and stopped. Standing there she blared once again down the river in anger, looking to the left and right searching me out. She pushed herself onto her hind legs and put her nose in the wind. As her gaze moved in my direction, I felt that she became calmer. To my relief she dropped down, walked along the edge, looked at her cubs and decided to leave things be. Looking through my pictures later in my tent that evening, I realized how much fear had taken over. Every picture was completely blurred.
The rest of the trip wasn't so frightening. I was surprised how fast the time went by and suddenly I was already hiking north of Jasper! The days grew cooler, a snowstorm on the Skyline Trail resulted in an emergency descent and then one morning while I was hiking through thick brush, I realized how brown everything was. Autumn had begun and it was time to go home.
I finished this wild and solitary section at one of the most scenic places on the trail, Berg Lake, in Mount Robson Provincial Park. As I left the GDT behind and walked down to the Highway, I was overwhelmed by the speed of life. Two days later, I was back in Germany caught up in the flow. With appointments to keep, forms to fill and studies returned to, I quite often wish I was back on the trail reveling in a pace of life determined by my own two feet in the Canadian Rocky Mountains.