Paula Duncan, one of the first women to solo hike the Great Divide Trail, entertained a sold out crowd at the GDTA AGM on October 2nd, 2017. Paula kicked off her talk with why she prefers solo hiking. "I like it for many reasons, the most compelling of which is that I find it to be a more profound experience… I'm more mindful and more aware of what's going on around me, experiencing nature on a deeper level, kind of like a mindfulness meditation. I treasure the rare experience of being in places completely away from human generated sound. Also walking at my own speed, going for as long or as short in a day as I choose and challenging my own route finding skills."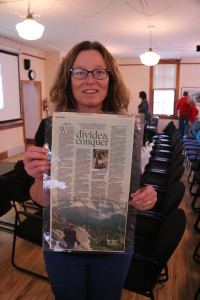 It's been 11 years since Paula had her GDT journey and she had a lot of fun looking back on the trip in preparation for sharing her story with us. Here are Paula's top tips for planning a trip on the GDT:
Physio/Fitness: targeted pre-hike exercises based on a physio assessing her weak points
Food: dehydrate your own food, it saves a lot of money! It's amazing what you can dehydrate, even leftovers. And it's important to bring nutritionally dense food; in addition to calories for fuel, you need to consider what your body requires to repair itself under consistent heavy use. It goes with the territory that long distance hikers will lose weight, and we now know that healthy fats should be a part of our diet, so include them prior to, and during your trek.
Feet: If your shoes don't quite fit, and you are prone to blisters, try raw washed and combed sheep wool on your hot spots, under your socks.
Skills: Learn how to read a river, how to find a safe crossing, and practice moving in streams. (River crossings scared Paula more than bears). If you have any fly fishermen pals, they can help you learn those skills! You will also need to have solid routefinding experience, and always be aware of possible alternative routes… You will encounter a variety of conditions; possible floods, impassable rivers, fires, wildlife closures. Or you might want to do something different just for fun!
Mental prep: Books, particularly those of the early Rocky Mountain explorers, also other expeditions, such as "The Worst Journey in the World Antarctic 1910-1913" by Apsley Cherry-Garrard. (Download for free on google play, or audiobook free from Librivox). As part of the Scott Antarctic expedition and research team, Apsley was one in a group tasked with the objective of obtaining emperor penguin eggs; researchers were intent to obtain these eggs, as emperors were thought to be the most primitive birds on the planet, and hoped the embryos might provide evidence of an important evolutionary link. With this objective a party of three set out in the dark of an Antarctic winter, pulling two sledges loaded with over 700lbs of gear. They were out for six weeks, in temperatures as low as -70s Fahrenheit. Their clothes were frozen, one time so stiff Apsley wrote he couldn't move his neck, and had to pull with his head tilted back. They crawled into stiff frozen sleeping bags at night; they suffered from scurvy and associated weakness, swollen painful joints, the cold was so bad their teeth shattered in their heads. Why on earth will this be helpful on the GDT? Well, you will have some spectacularly beautiful days, which will touch you to your core…and you will also have some difficult and painful days that will take a little more patience and determination to get through. So, on your very worst day on the GDT, you can think of those men, and you will feel a lot better about where you are at!
Returning from the trail is different for everyone. After you've been on the trail for weeks, getting into the rhythm of walking with your pack on, you've probably formed a few new neurons, and then you're back into "life", and trying to fit yourself back into something that feels a little alien. Hopefully you will be able to take some time, and ease into it; you get a little different sense of being, somewhat esoteric, difficult to explain to someone who hasn't been there. "I met this fellow, Robert Twigger, back from recreating MacKenzie's trip from Athabasca Lake to the Arctic Ocean, in a handmade birchbark canoe. He just looked at me, and said "Oh, you just got back, so you understand, don't you"? Neither of us could really articulate what that was about, but we definitely understood."
Paula summed up how the GDT thru-hike stayed with her and affected her in four ways:
Simplify consumption: "I think as a result of moving on foot at a slow, human pace and being removed from marketing and petroleum products for such an extended period of time, I became profoundly aware how influenced we are by these things, and the unsustainability of it all in the long run. It became a consistent and unavoidable theme towards the end of the hike, a realization which caused much conflict for some time following, particularly in terms of how to reconcile my own actions with this knowledge. It's a very big picture, and much is interconnected. In simple terms, it made sense to consume less, and to be more mindful regarding consumption."
Headwaters: Along the GDT are numerous headwaters, which became an incentive to learn more about our waterways, both geographically and ecologically. "I'm now more aware of who is downstream? What is upstream? What products am I putting into the water?" I also have become involved in Parks Canada projects as a volunteer, particularly in aquatics research.
Wilderness: "I seek out the old ways, longer distance wilderness routes now seldom used, more bushwhacking and river crossings, but i love the remoteness and the challenge. Many of these are not so far from home! I don't throw out old guidebooks or maps, and I listen to stories of older area residents, as these provide records of such places otherwise forgotten."
Gratitude: "The kindness of strangers and so many people who helped me out along the way, or just sent their good vibes along. Gratitude for those who went before: the First Nations people, explorers such as David Thompson, the Palliser Expedition, James Hector, Mary Schaffer, Milton and Cheadle. Today it's the guidebook writers, (surely a labour of love, things change so quickly!!). For keeping seldom used trails passable: commercial outfitters, recreational horse packers, and in particular I can't tell you how many times I was grateful to the trail crews."
"Overall, what I took away …. be a more mindful consumer, consume less, and I like the quote from Aldous Huxley "be a little kinder to one another."
Paula has mostly lived in Canmore for the past 30 years, so she's fortunate to have the opportunity to spend a good deal of time in the mountains, She's also been fortunate enough to travel and experience hiking in other countries. Of all of the countries that Paula has visited Nepal had the greatest influence on her life. It gave her a first taste of long distance hiking as well as other profound life lessons. Most striking was the exceptional generosity of the Nepalese people, many with less in their homes than what was in her backpack, but always willing to show hospitality and to share with no strings attached. She came away with a profound appreciation and gratitude for her experiences and wanted to give back somehow.
Paula raised funds for Child Haven when she walked the GDT which meant creating media awareness for her thru-hike. Child Haven was founded by an amazing inspiring Canadian couple, Bonnie and Fred Cappuccino. Bonnie and Fred had 2 children of their own, and then adopted 19 mixed ethnicity kids from around the world, back in the days when this was unheard of. When that family grew up, Bonnie and Fred weren't finished yet, they started homes for children in India, Nepal, Tibet and Bangladesh. The homes operate on a Gandhian philosophy, so girls and boys are treated equally, and without regard to race, caste, religion. The organization is secular, children are raised according to the highest ideals of their own cultures. Paula's been involved for many years with Child Haven, mostly with arranging past fundraisers for Child Haven in Calgary and more recently in the Bow Valley. If you want to find out more about Child Haven, see www.childhaven.ca.
Thank you Paula for sharing your story with us!