by Deborah Yanchula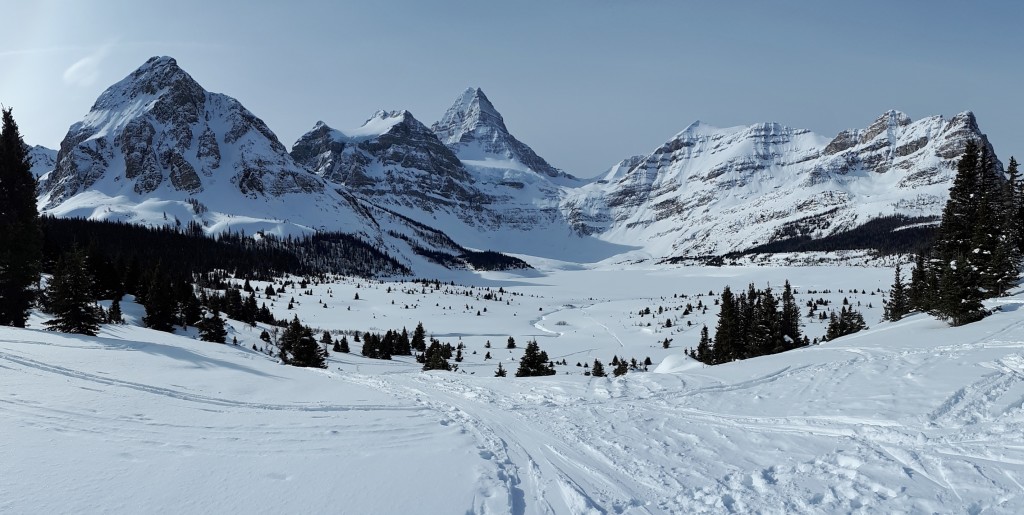 Are you looking for a winter adventure in the mountains and lamenting your hiking boots retired for the season? Mount Assiniboine is the perfect, true winter experience. Mount Assiniboine is a remote gem, inaccessible by road. It is about 20 km south of Sunshine Ski resort (as the crow flies) accessible by trails from Kootenay or Banff National Parks.
It's been a winter tradition amongst our hiking group for the past five years. In winter, Mount Assiniboine, a 28 kilometre trek, is only accessible via the Mount Shark entrance, due to avalanche risk via other routes. The trail starts at Mount Shark on cross country ski trails, gentle track set trails, to Watridge Creek. The trail continues through a wooded forest heading west towards the Bryant Creek Hut at kilometre 14.
Bryant Creek Hut – This rustic cabin with a wood stove, firewood and wooden bunks is a good night stopping point to break up the upward hike into Assiniboine into two parts. We carry our winter sleeping bags, head lamps and one pot gourmet meal. Many good stories have been shared in front of the stove or star gazing in the meadow outside.
With fresh legs the next morning and fresh snow decorating the trees we snap on the snow shoes to head up the switchbacks of the pass. We are rewarded at the top with the "Welcome to Mount Assiniboine" sign.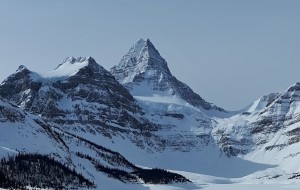 This beckons us onward across the meadow and along the trails another 3 km to Mount Assiniboine lodge and a welcoming beer.
The lodge (private) and the Naiset huts (operated by BC parks) are accessible daily by helicopter. We have no shame in sending in some tasty food and beverages this way. It is an excellent bailout option when gear malfunctions also.
The Naiset huts, cozy log cabins, are a welcome repose on padded bunks at the end of a day skiing or snow shoeing on the plateau. The shared kitchen and common area is better equipped than most restaurants. Pots, dishes cutlery, even a coffee maker is available in this heated, lighted refuge. We have met people from all parts of the world there, sharing adventures of their favourite mountains.
Assiniboine peaks through the cloud and majestically towers over this quiet valley blanketed in white – a true winter escape!