by Michelle Hebenton
Geartrade.ca was founded in 2012 in Okotoks, Alberta by an outdoor enthusiast and entrepreneur who saw a need for an outdoor gear marketplace. Jesse and Michelle took over the reins in 2018, and haven't looked back!

Over the years, this local business has flourished with online sales throughout North America. However, it is still the little touches, customer service, and professional advice that matter most to the Geartrade team. They strive to take the time needed to make sure their customers walk away with the right product for their next adventure.

With a degree in EcoTourism and Outdoor Leadership, Co-Owner and operator Jesse Hebenton, has an extensive background in the outdoor field both in retail and as a guide and outdoor facilitator. But at the end of the day let's face it, he's a big time gear junkie. Jesse's wife, Michelle, had been doing the bookkeeping while on maternity leave for their two kids, and joined the business full-time in the summer of 2022! She brings her background in business and love of adventure along with her – but she is a rookie when it comes to gear knowledge, so leave those hard questions to Jesse!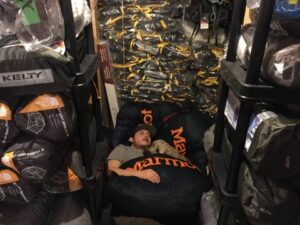 Together their mission has been and continues to be simple, they want to provide outdoor enthusiasts with the best marketplace to buy brand name, high quality gear. Recently they have been expanding their gear selection in the Ultralight category! Geartrade.ca now houses some of the top brands in the ultralight hiking market, some of which you can't find anywhere else in Canada! They also love carrying some of the smaller cottage companies that are producing some incredible technical gear, on a smaller scale.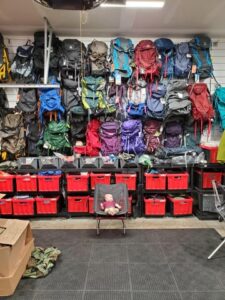 Geartrade.ca has recently moved into a full retail location, thriving in the heart of Okotoks. Despite this exciting growth and change, their unwavering commitment to providing exceptional customer service remains steadfast. Jesse and Michelle have a deep-rooted dedication to making every customer experience a memorable one. This approach is what sets their business apart.
The GDT is on the hiking wish-list for both Jesse and Michelle, but until then, they love to support the GDTA by donating a portion of their proceeds from their annual Geartrade.ca Advent Boxes! In addition to that, the geartrade.ca website hosts the GDT Store where you can purchase Official GDT merch. Those sales directly support the GDTA!
A message from Jesse and Michelle:

"To all of the customers we have already had the pleasure of meeting, thank you for the support and continuing to trust us with gear advice for your upcoming adventure. And to those who are new to our shop, we can't wait to meet you or chat about your next trip. Happy trails!"