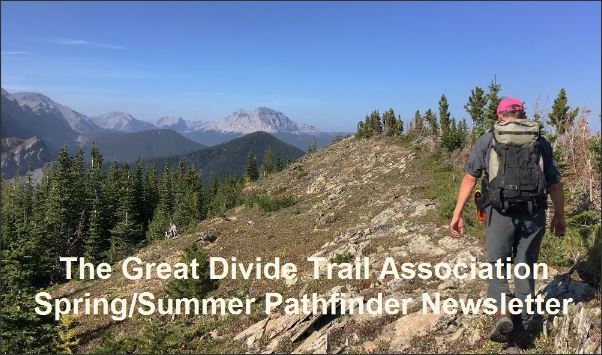 This edition of the Pathfinder Newsletter includes important announcements, and information to help plan your 2023 summer on the GDT – hiking and/or volunteering, a report on the recent Film Fundraiser, an adventure story on the GDT, a second installment of our nascent Food Column, special interest topics, and a fun excerpt from the highly acclaimed "Tales from the Great Divide, 2nd Edition". Enjoy!  
New this Summer!

Blueberry Creek Trailhead Resupply
Hiking the remote Section G? The GDTA is excited to announce a new resupply service around the midpoint of Section G, at the Blueberry Creek Trailhead. Get all the details here.

Calgary – Waterton – Crowsnest Shuttle
Trying to find a ride to Waterton to start the GDT? The GDTA is happy to announce a new shuttle service – Crowsnest Pass based Chantel Beven's business. Details of this shuttle service and other GDT access solutions are here.
Save the Date – Upcoming Events September 24, 2023 – Annual General Meeting (AGM)
More information here.
Location: Calgary and Virtual on Zoom