By Mary Jane Kreisel
Last June, I wrote an article in the Pathfinder about our newly registered charitable status and how donations could support the GDTA's work. I am writing now to update you on the progress of our donation program and its impact on the GDTA over the last year.
Throughout the summer and fall, we saw a steady stream of donors who generously donated on our website Donation Form. Some even pledged monthly donations – truly, the gift that keeps on giving!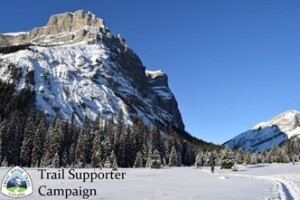 One of the photos used in our Trail Supporter Campaign
In November and December of 2020, we held our first ever Trail Supporter Campaign – coinciding with "Giving Tuesday" and the holiday season. This campaign sought support for the GDTA and our multiple trail projects in B.C. and Alberta coming up this summer. We created a donation form unique to the campaign that could be used on mobile devices as well as our website. It also gave us the ability to track progress through a fundraising thermometer.
We established a fundraising goal of $5,000 which some of us thought ambitious at the time. Much to our delight and surprise, we met this goal within six days – our fundraiser thermometer had almost burst! We decided to keep the campaign going to the scheduled end date of December 20. In total, the campaign raised over $8,000 for the GDTA.
Individual donations ranged in all shapes and sizes but what was striking was the sense that our donors were giving straight from the heart. We received a number of comments on our donation forms that were very inspirational:
Thank you for all that you do and continue to do to make the trail so great.
I'm a section hiker who started the GDT two summers ago and plan on finishing next summer. Keep up the good work!
Congratulations on all you have accomplished in this challenging year.
Walked bits and pieces of the GDT in 2020 – thank you!"
GDTA does amazing work and I am happy to support your work."
Thank you for all the fantastic work you do! I had a blast thru-hiking the GDT this summer and the experience wouldn't have been the same without the work of your volunteers."
It is difficult to express how much we appreciate receiving this kind of support from our donors. As we approach the end of our fiscal year on March 31, we are starting to see the impact of donors' contributions on our financial position. Since April 1, 2020, individual donors have brought in over $15,000 which represents about 50% of the GDTA's total revenue this fiscal year. Some donors have also contributed this year through Benevity (a corporate donor platform) adding another $900 to our revenue. We have gone from a projected deficit in our budget this year to a potential surplus. In a year in which we initially experienced a significant hit because of the pandemic and economic downturn, this is truly significant!
We are planning a very ambitious trail building and maintenance season this summer. This will involve multiple projects in Alberta and BC as well as supports for our emerging youth program. Similar to last year, we will continue with safety protocols as necessary to protect our volunteers as the COVID-19 pandemic wears on.
Our trail projects are becoming increasingly complex and multidimensional. For example, the Cairnes Creek Pedestrian Bridge project in BC will involve highly technical on-site construction and transportation to get bridge materials to this remote site.
Our communications team continues to produce a first-class newsletter and provide critical trip planning resources to hikers and equestrians who attempt the challenge of the GDT. The Trail Protection and Advocacy Committee remains involved in collaborative land-use planning in designated areas throughout both provinces and is carefully monitoring the impact of coal exploration along the GDT in Alberta. Our Outreach Committee is adjusting its work to reach members and the public through alternative types of media and outdoor activities.
The importance of donations in support of these programs cannot be overstated. The least we can say is a heartfelt "Thank you!" to all who contributed this year. This also includes our volunteers who work on the trail as well as behind the scenes to keep the organization running. The vision of a world class long-distance trail straddling the Great Divide of the Canadian Rockies – full of scenery, challenge, and adventure – is made possible by people like you.