By Charlene Deck
The Great Divide Trail offers an unparalleled wilderness experience thanks to the numerous national parks, provincial parks, and wilderness areas through which it passes, but it requires more challenging trip planning logistics than most other long-distance trails. So where should you begin?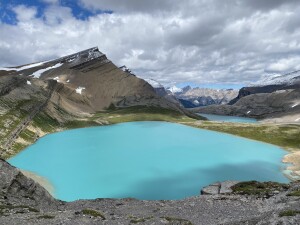 1. Start with a trail map
Choose the part of the trail you'd like to explore from the Great Divide Trail's more than 1100 kilometres.
Tip: Read about the GDT's seven sections to help you decide.
2. Plan your access
Know your options to access the trail. Even though the GDT is remote and crosses few highways, public transportation and trailheads do exist to allow you to access the trail at various points.
Tip: Check for updates on the access roads, including the changeable conditions of Walker Creek Forest Service Road.
3. Review the opening dates for campground reservations
Note the opening dates for backcountry reservations so you can have your itinerary ready. For 2021, online reservations for Banff, Kootenay, Yoho, and Jasper national parks open on April 16th. Opening dates for provincial parks are listed here.
Tip: Make your Waterton Lakes National Park backcountry reservations up to 90 days in advance and your townsite reservations starting on April 13th in 2021.
4. Plan your itinerary 
Create your itinerary with a complete list of campgrounds to be used on your trip. For each campground, record the park in which you'll be camping, the permit that's required, and the opening date for reservations.
Tip: Build some flexibility into your itinerary in case your preferred campgrounds are not available and to allow for unexpected delays. Refer to the popularity ratings of campgrounds.
5. Book your campgrounds
Click here for detailed instructions on reserving your national parks backcountry permits online and for information on reserving your national parks random camping permits. Instructions for reserving provincial park backcountry campgrounds are here.
Tip: Practice using the Parks Canada Reservation Service so you're ready on opening day.
6. Plan your resupply
Check out the resupply options. Each of these places will accept resupply packages and are access points for section hikes.
Tip: Note the locations that sell stove fuel as it cannot be mailed through Canada Post.
Before you go
Learn about potential hazards, wildlife, food storage, and more.
Find potential hiking partners and the advice of experienced hikers on the GDT Hikers Facebook group.
Read trail journals of other GDT hikers.
Check out Dustin Lynx's GDT guidebook.
Research current trail conditions and closures.
Check out our FAQ for answers to the most frequently asked questions.
Happy hiking!