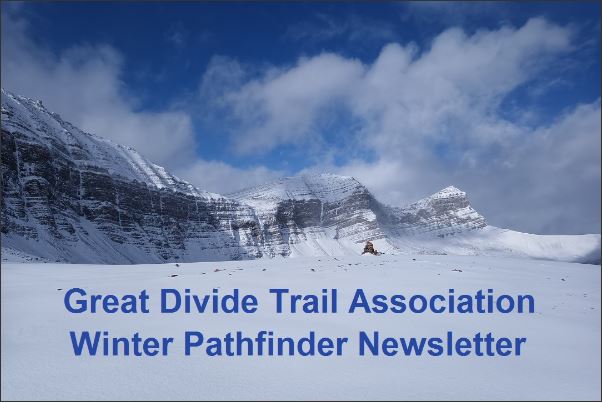 This edition of the Pathfinder Newsletter summarizes the recent Trail Supporter Campaign and thanks all who participated in it. Additionally, it showcases adventures on the GDT, planning information for this summer, trail crew fun, healthy hiking, and special interest topics. Enjoy!  
Save the Dates:

Thursday, March 2, 2023, 7pm MST – Women's Webinar
Do you have questions about hiking as a woman? Here's a webinar for women, all about preparing for your first solo backpack or first backpack, safety, gear, and hygiene. Whether you are going out for a day hike or a thru-hike this summer come join us!

Location:  Virtual.  Details and registration here.
 
Thursday, March 9, 2023, 7pm MST – Risk Management Webinar
Fires, river crossings and snow. Three of the staple hazards hikers encounter in the Rockies. Join us as we talk about strategies to mitigate risk and tips on how to choose the best route or option given these circumstances. We will also be talking about common sections of the GDT where last-minute changes may take place depending on the weather, how to adjust and what the options are.

Location:  Virtual.  Details and registration here.
 
Thursday, June 8, 2023 – Premier of "Out There": Great Divide Trail Documentary by Wilderland Media

"Out There" tells the story of the Great Divide Trail. Travel with us through Canada's pristine wilderness and wildlife corridors and experience the beating heart and soul of the GDT Community. This journey will truly take you out there.

Location:  Globe Theatre, Calgary, Alberta 
Time:  June 8, 6:30pm-9:30pm MT

See GDTA website closer to the date for ticketing details.